Outsourced Precision Machining Sevices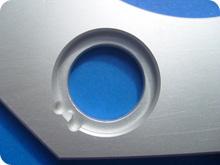 We represent an international standard machine shop located in Northern Thailand supplying high quality competitively priced precision machined parts.
We offer one off, small to medium batch CNC and manual precision machining providing good flexibility plus full inspection to meet our customers' specification.
In today's competitive market place outsourcing your precision machining, will significantly reduce costs and in-house machine and skilled personnel resource requirements.
We have in-depth experience at producing precision-machined parts from various types of plastics, metals such as brass, aluminum, mild, tool-steel, stainless steel, etc with high quality finishes.
Our highly skilled and experienced staff allows us to fabricate and deliver the top quality precision machined parts at total customer satisfaction.
We guarantee a worry-free, smooth flow of your projects from specification through delivery.
Our commitment to demanding prices and deadlines whilst meeting exacting standards is the key to our success, allowing us to build good relationships with our customers. Please click below to read more: